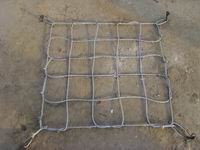 With the financial crisis and economic crisis in the world economic downturn, to improve and speed up economic development, our country and the world is accelerating infrastructure projects and stimulating domestic demand, a large number of investment projects.
Port terminals and other infrastructure projects, foundations reclamation required for the building of stone become the focus of materials in some areas due to lack of stone, the stone became the key to the transport, maritime transport and shipping costs low and therefore the most reasonable mode of transport, but in the loading and unloading Problems, so I launched series of container products.
One-time, direct reclamation Wangdou riprap. Wangdou the use of high-strength fibers woven into rope, made of square, round and other forms of customer needs. Wangdou tensile strength and capacity can also be done in accordance with customer needs system.
Ben Wang pocket that is a direct solution to the riprap, stone after stone in the structure of the project has been fixed Wangdou with the stability of the riprap and resolved to facilitate the interoperability and flexibility. Therefore, to solve the stone quarries in the packaging, loading, transport of construction until the end of a one-time use.