Steel plastic welding geogrid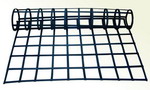 It has the characteristics of steel high tensile strength, low elongation and that of the PP erosion resistance, aging resistance. It has four characteristics as follows:
High tensile strength, low elongation. It's made of good PE material and good steel with UV resistance additive. So its tensile strength is high and elongation is very low (≤3%).
It has three applications used in the earth: the rubbing action between earth and the steel plastic belt; the lockup of the geogrid to the earth; the impedance of the geogrid itself to the earth.
It's easy to be laid and laid quickly.
It can reduce the project cost.
Technical data
Art. No.

Specs

Tensile strength,N/m

Elongation

%

Tensile strength of the welding point

N

Width,

m

Roll length,

m

MD

CD

PLB010501

TGSG4040

≥40

≥40

≤3

≥50

4-6

30-50

PLB010502

TGSG5050

≥50

≥50

PLB010503

TGSG6040

≥60

≥60

PLB010504

TGSG8080

≥80

≥80

PLB010505

TGSG100100

≥100

≥100

PLB010506

TGSG120120

≥120

≥120
PP welding grid