Fiberglass Mesh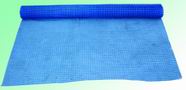 Fiberglass alkaline-resistance mesh fabric as the basic structure in the heat insulation system, it can prevent cracks because of the good chemical-corrsion resistance and high strength of warp and weft.
It can spread the stress equally on different direction so avoid the transfigure in the heat-insulation system if it is heated in a large strength, it is also easy to be applied.
It is really the "soft steel" in the out-side wall heat preservation system.
Product specs
Mesh size

Weight

Width

Length

color

Package

Art. No.

5mm×5mm

4mm×4mm

3mm×3mm

80g/m2

~160g/m2

1m~2m

50m,100m

White, blue, green or

other colors

Special specs and

special package

can according to

your request

PLF0901